Culturally rich India showcaseds its heritage and art in one or other way; and recently opened NMACC launch event was one of many to grab many eyeballs. The internet went gaga over the launch of NMACC for it celebrates and envisions the uniqueness of Indian culture and in addition to that Celebs at NMACC were also seen setting the trends with their unique Fashion sense.
Prominent figures from around the world were invited to attend the launch event. Celebs at NMACC drew everybody's attention with their hybrid fashion sense of vintage and modern trends. Celebs flaunted their Indian inspired attire in the event. Whereas many celebs at NMACC experimented with their dresses and jewellery and some kept their fashion game simple. A-lister from Hollywood surprised everyone with their new Indian makeover which was also one of the reasons that event went buzzing all over the internet. Here are a few celebrities who caught everyone's attention and took the internet by storm with their qnique and classy fashion sense.
GiGi Hadid in "Indian Avatar" at NMACC
Supermodel Gigi Hadid, famous for sport's modelling, surprised everyone when she walked on the red carpet with the Chinkari Sari and V-Neck Blouse with detailed Embroidery. It is traditional garment from the "City of Nawabs", Lucknow and with the amount of detailing in every aspect of dress it rightly took a year to complete. The look featured bold tassels, golden borders which complemented the saree. Jewelry included gold embedded in the Blouse, matching Gem Studded Ring and Earrings. Gigi Hadid's look is reminiscent of heroines from historic Indian movies and with the amount of appreciation this dress got there can be possibilities of this dress featuring in a classic period movie.
Simple yet Remarkable from our very own Diva – Alia Bhatt aka "Gangu Bai"
Everybody was in awe with the look of new mama Alia, who illuminated the event at NMACC with Gorgeous Silver Sari with an Off Shoulder Blouse. Jewelry and makeup were kept simple and minimal to not overwhelm the look. Saree featured intricately crafted embroidery and 3D flowers weaved on the blouse gave her ethereal glow. Jewelry includes a Choker with detailed diamond work, Arm Band with the 3D flowers on it to complement the Blouse and Gem studded Bracelet with Ring. Makeup was kept subtle with the sleek bun. Aila Bhatt's fashion game has always been classy, and this look also received a jaw dropping reaction.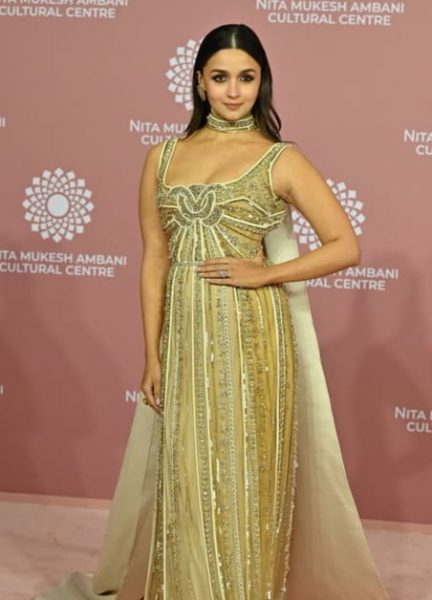 The Fashionista: A look at Deepika Padukone's Elegant Attire
In the recent past Deepika made an appearance at the Oscar looking gorgeous with Black Velvet Gown. For NMACC, Deepika went a bit desi and opted for an ivory long choli with matching pants with a border rich embroidery cape thrown on the top. Dress was reportedly a fusion of Indian and West. Jewelry includes gem studded earrings with a unique Maang Tikka which consisted set of beautiful diamonds. Rightfully, the star brought the A-Game while adopting the theme of the event. Look portrayed the white hued theme overall, which was loved by fans and fashion enthusiasts.
Why just scrolling? You can also take inspiration from these Fusion looks and include them in your fashion game to elevate it with innovative approaches. Looking for a jewelry brand you can trust to glam up a bit? We can be just the right place for you to find the best jewelry collection which will compliment your unique style.
Latest Products