What is fusion fashion?
Fashion trends keep evolving with time. Over the years, many fashion trends have come and gone, but the one that has become increasingly popular is fusion fashion. As the words suggest, here Fusion simply means knitting trends with traditions. For India, a country where traditions are deeply rooted in everything, fusion fashion is a gateway to styling western outfits in a way that reflects the country's rich cultural heritage.
As the fusion fashion trend has surely taken India by storm, women now have a huge playground to create unique contemporary looks by pairing traditional Indian jewelry with western clothing. Various options of Indian traditional jewelry need no introduction, but chokers for women are the most preferred option as fusion and fashion jewelry. One of the most popular fusion fashion trends is styling heavy polki chokers with various western outfits.
What is a Polki Choker?
A gift from Ancient Egypt, the choker necklace is a traditional piece of jewelry known for its dense, intricate patterns. It sits snugly around the neck and is broader than other necklace designs. Back in the days, they were worn to protect the neck from any assassination attempt. Made from various metals, chokers have travelled for centuries before becoming a popular choice of adornment. A polki choker typically has a base of gold or silver, dodged with uncut diamonds slices known as polki. Often decorated with beads, a polki choker looks royal and vibrant. They look stylish and well blended with both traditional and western outfits.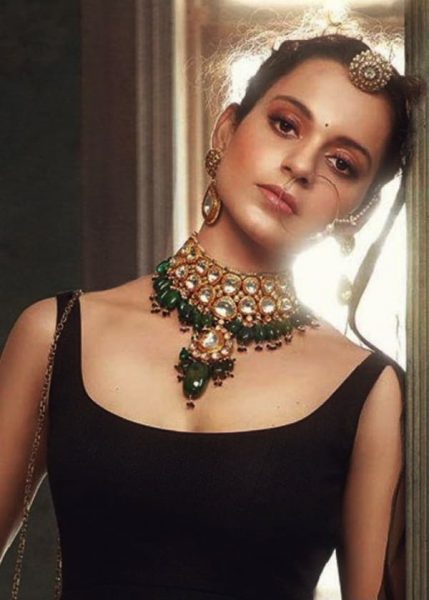 How to style Polki Choker With Western Outfits?
A polki choker is an accessory that is capable of adding a touch of glamour and authenticity to your look. A minimal and fashionable polki choker is enough to land you a finished look. It is a great way to incorporate traditional Indian jewelry into your wardrobe. Here are a few tips for styling a heavy polki choker necklace set with western outfits:
Pay Attention To The Neckline
One of the best advantages of a choker necklace is that it enhances the neckline effortlessly. To pair it with western outfits, it is important to choose necklines that increase its visibility. Off-shoulder dresses or dresses with a V-neck are great options to wear a choker necklace with. Now a day many stylists are pairing chokers with turtlenecks also.
Team Up With A Blazer
One of the trendiest garments, a blazer, when paired with a shirt or t-shirt and accessorized with a polki choker necklace, gives a bold look. A blazer adds sophistication to a simple outfit, and a choker brings in a splash of glamour. This duo helps you land a powerful professional image strong enough to leave a long-lasting impression.
The Simple and Darker The Better
The glitter of the polki choker necklace is displayed at its best when paired with a contrasting outfit. Avoid wearing choker necklace sets with outfits with busy patterns. Simple outfits with darker shades, such as an LBD or a red dress, would draw the attention of onlookers to the choker. This is a simple and effective way of displaying the royalty and aesthetics of the polki choker necklace.
Layer It Up
Choker necklaces are the best way to amp up your layering game. When paired with other accessories, such as long necklaces or statement earrings, chokers help you land an effortless boho look. This layered look never fails to amaze!
Let Your Hair Do The Talking
Just like the makeup and outfit, the hairstyle also plays a significant role in enhancing the beauty of your look. If you plan to pair Indo-Western fusion dresses with Indian choker necklaces, try to avoid open hairstyles. A messy bun or high ponytail with bold eye makeup would do to achieve a strong, glamorous look.
Using fashion trends to express your personal style is a task that demands rigorous thought and experimentation. With the right outfit and jewelry, you can create a unique and fashionable look. We know how influential trends can be, so we have created a wide range of fusion and fashion jewelry, including polki chokers, in different styles and designs for your creativity to shine!