Sarees truly are a colourful tapestry of India's rich and vibrant culture. Standing tall through the tastes of time, this six yard of elegance has renowned its place on not only national but on international platform as well. The eternal beauty of the saree is displayed in various ways throughout the country. While the design and style of the saree may differ at the regional level, one thing that women prefer to accentuate the beauty of this attire is jewellery. Today we will be going on a journey of alluring saree jewellery, making this traditional ensemble fashionable even after centuries!
For women, their jewellery collection is a prized possession. Adding texture and depth to the attires, jewellery plays a vital role in beautifying the overall look. A country as big as India, has cultural influence on everything in one or other way and saree jewellery is no different. Each region has its own unique way of celebrating the beauty of saree, leading to it having different variations across the country. Read along while we share a snippet of the unity in diversity of our country through saree and saree jewellery.
Vibrant and comfortable – Nauvari saree
Iconic Maharashtrian drape – Nauvari saree is one of the longest saree that stands out for its vibrant shades and traditional designs that is untouched by trends. To match well with the bright hue, women choose gold saree jewellery to wear with it. One of the most iconic traditional jewellery for nauvari saree is the nose ring known as peshwa nath. It is a slightly elaborate nose ring in the curved shape of a mango, studded with polki and decorated with bright colours. Authentic nauvari saree look with jewellery is accentuated by traditional jewellery pieces such as long gold beaded necklace called mohan mala or the traditional gold choker tushi. To maintain the ethnicity of the saree while adding a touch of shine and shimmer to the look!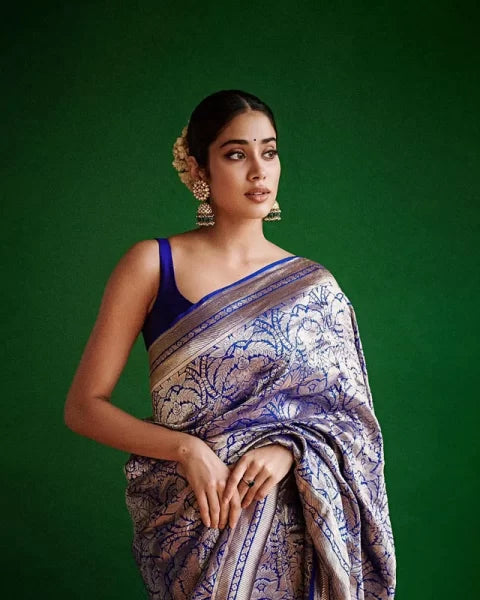 Ancient and Serene – Banarasi saree
One of the most popular types of sarees, banarasi saree stand out for its opulent gold and silver embroidery on finely woven silk fabric. They look regal and graceful when worn on any occasion. When it comes to pairing saree jewellery with the Banarasi saree, the gold jhumkas or stud earrings alongside a kundan necklace or maang tika are ideal choices for formal occasions. For a minimal approach, going for a subtle long necklace with a big pendant in the middle would be the right choice. The key here is to go for jewellery that either falls a bit below or accentuates the neckline without sitting on the work of the saree.
Simple and Charming – Kasavu Saree
Known for its simplicity and serenity, Kasavu saree is a traditional saree from god's own country – Kerala. It's a usually a white woven saree made of cotton which has a golden border. To add to the beauty of this traditional attire, women love to stack a lot of jewellery with it. Gold jewellery on kasavu saree is the most preferred choice of ladies. Big temple jewellery with intricate designs blend well with the saree, giving it a regal look. Some even go for traditional satlada gold necklace and long jhumka for a more dressy appearance. In any way, most gold look jewellery complements kasavu in the best possible way!
From south to north, India effortlessly embraces the beauty of saree using saree jewellery. From chocker to long necklaces, women know how to play around with saree jewellery without tempering its essence. Ideal for the minimalists and the fashionistas, we have got you covered with our wide range of saree jewellery to choose from. Want to add a finishing element in creating a refined look? You know where to find us!!
Explore Jewellery for Saree